Free For All Chat Time (Summary) #SocialCafe 2.53
Welcome to the summary for...
#SocialCafe Chat Topic: Free For All Chat Time
View the announcement for this #SocialCafe Chat..
Another fun free-for-all chat time with the #SocialCafe community.
Resources Mentioned In Chat/Show
Previous #SocialCafe Twitter Chat
Twitter Chat and Party Wrap-Up #SocialCafe 2.52

Next #SocialCafe Twitter Chat
Business Basics #SocialCafe 3.1


Final Thoughts and Action Steps
Looking forward to hanging out with the #SocialCafe crowd in 2014. Yay! See you then!


. .


#SocialCafe Twitter Chat Announcement
This SocialWebCafe Twitter Event is about Free For All Chat Time.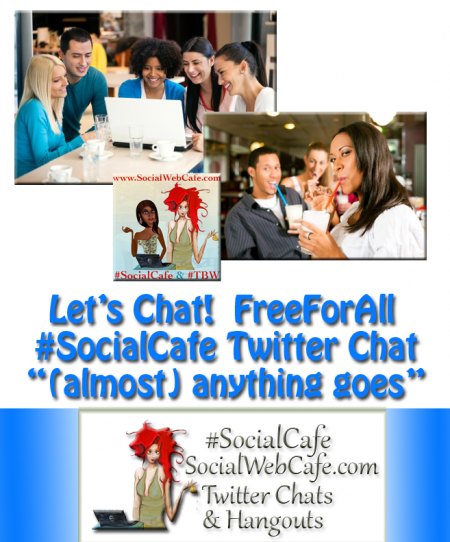 This event sponsored, in part, by our wonderful friends at:


We recommend them because we love them (and their tool) and not just because we are compensated. Try it for free!
About this Topic/Event
Do you have plans for New Year's Eve? Excellent! Go party and tell us about it next week!
Craving some quiet time, a cup of mint tea, and a little conversation? We will have someone from the Social Web Cafe team here to chat during the #SocialCafe Twitter Chat hour.
Twitter Event Details
Date:   12/31/2013
Time:   6:00 pm PST/PDT (9:00 pm EST/EDT).
Hashtag:   #SocialCafe
Time Conversion for Twitter Events Time Zone Difference Calculator
Format: Freeform
For more information on the formats of Twitter Events and what we recommend as tools to join in the fun, please visit Twitter Event Instruction.
Have questions? Leave them in the comments or send a regular tweet to Deborah @SocialWebCafe.
Error thrown
Call to undefined function getCustomPinterestPostType_incoming()