Manners, Rules, and Successful Communications Wrap-Up #SocialCafe 7.22
Welcome to the summary for...
#SocialCafe Chat Topic: Manners, Rules, and Successful Communications Wrap-Up
View the announcement for this #SocialCafe Chat..
Resources Mentioned In Chat/Show
Previous #SocialCafe Twitter Chat
Using Social Media Rules to Our Advantage #SocialCafe 7.21

Next #SocialCafe Twitter Chat
Introduction to How Content Marketing Can Change Your Life #SocialCafe 7.23


Final Thoughts and Action Steps

. .


#SocialCafe Twitter Chat Announcement
This SocialWebCafe Twitter Event is about Manners, Rules, and Successful Communications Wrap-Up.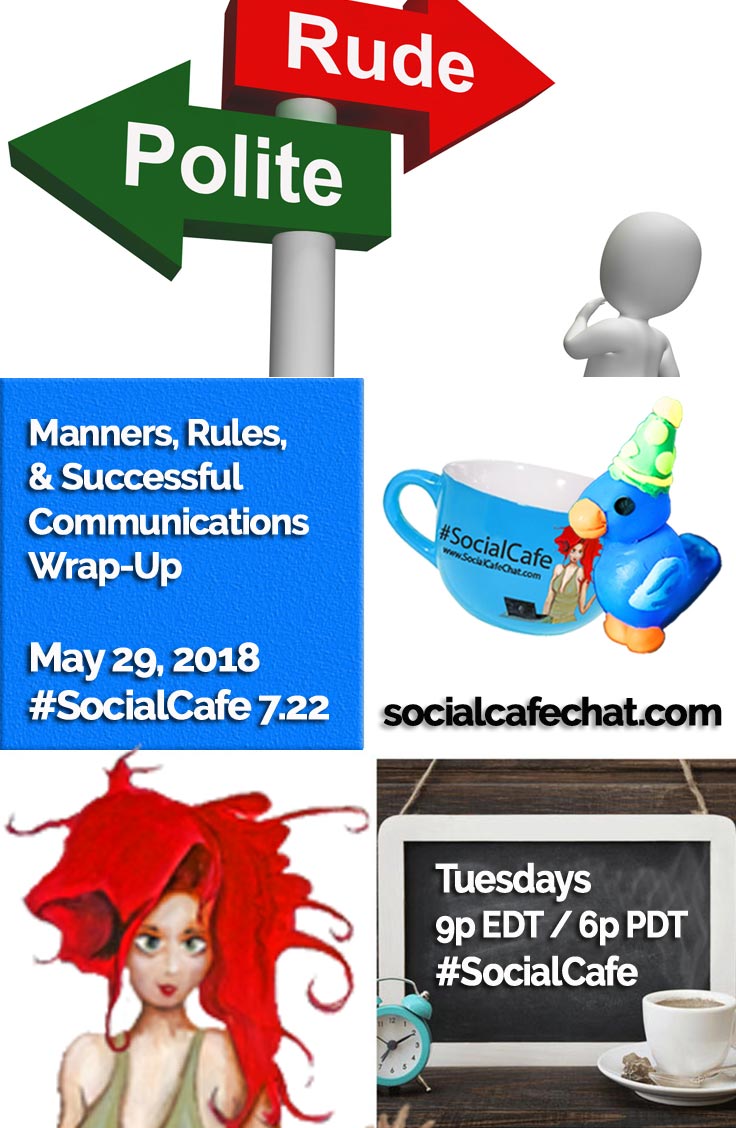 This event sponsored, in part, by our wonderful friends at:


We recommend them because we love them (and their tool) and not just because we are compensated. Try it for free!
About this Topic/Event
Ok, it is time for the series wrap-up! Yay! This is where we pull all of what we have learned over the past few weeks and summarize into something that we can use ;). Come share your thoughts, ideas, and brilliance at #SocialCafe!
Join us for this week's #SocialCafe. We will be wrapping up the series on effective (and successful!) communications in our business(es). We could use our input!
Twitter Event Details
Date:   05/29/2018
Time:   6:00 pm PST/PDT (9:00 pm EST/EDT).
Hashtag:   #SocialCafe
Time Conversion for Twitter Events Time Zone Difference Calculator
Twitter Event Questions
What have you learned during this #SocialCafe manners series?
What would you like to learn or what questions do you still have about manners and social media rule changes?
What "manners" resources have you found helpful? What resources are you still looking to find?
What changes (if any) will you be making in your communication strategies as it relates to manners?
Do you have any favorite #communication or #manners pins, photos, posts, tweets, videos that you would like to share?
Ok, time for that #ShamelessPlug What would you like to brag about when it comes to working with clients, teams, successful communication and/or manners strategies?
What would you like to add (including questions for the next series) before we close up our manners #SocialCafe series?
Format: Q&A
For more information on the formats of Twitter Events and what we recommend as tools to join in the fun, please visit Twitter Event Instruction.
Have questions? Leave them in the comments or send a regular tweet to Deborah @SocialWebCafe.