Strategies for Successful Collaborations – Part 1 #SocialCafe 7.15
Section8 Twitter Event Summary
Welcome to the summary for...
#SocialCafe Chat Topic: Strategies for Successful Collaborations - Part 1
View the announcement for this #SocialCafe Chat..
Resources Mentioned In Chat/Show
Tool of the Chat - for Roundups
GuestCrew

Previous #SocialCafe Twitter Chat
Online Tools for Successful Collaborations w/@SanaKnightly #SocialCafe 7.14

Next #SocialCafe Twitter Chat
Strategies for Successful Collaborations - Part 2 #SocialCafe 7.16


View the full #SocialCafe Chat Transcript
Final Thoughts and Action Steps
Twitter stats for this #SocialCafe event (Keep in mind, this is for only 30 minutes and not 60 minutes like most chats):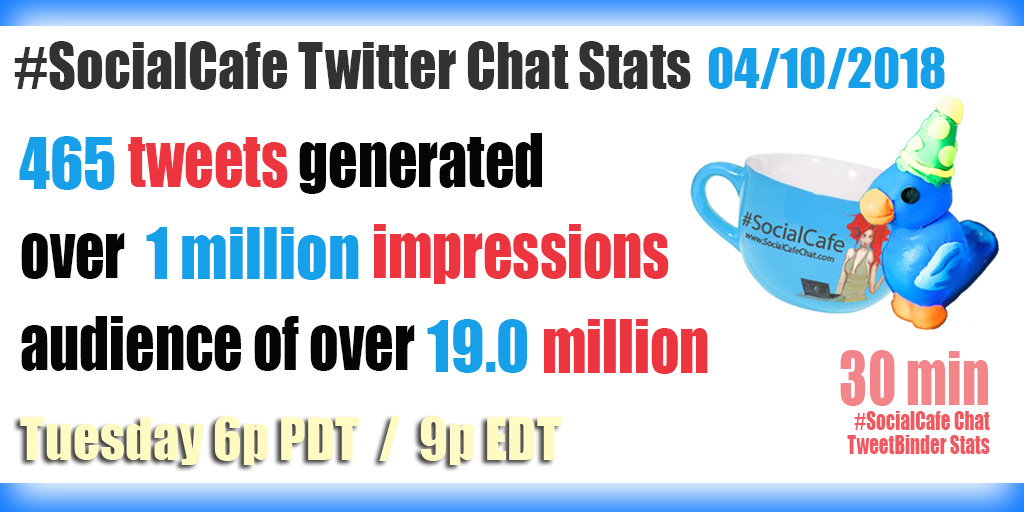 . .
#SocialCafe Twitter Chat Announcement
This SocialWebCafe Twitter Event is about Strategies for Successful Collaborations - Part 1.
This event sponsored, in part, by our wonderful friends at:


We recommend them because we love them (and their tool) and not just because we are compensated. Try it for free!
Tonight we are talking about actual collaboration strategies. This one is having to do with roundups. Have we experienced roundups (either as the producer or the participant)? Let's find out tonight!
Let's collaborate in defining collaboration strategies and tips.
Twitter Event Details
Date:   04/10/2018
Time:   6:00 pm PST/PDT (9:00 pm EST/EDT).
Hashtag:   #SocialCafe
Time Conversion for Twitter Events Time Zone Difference Calculator
Twitter Event Questions
Q1:  What is a roundup (in your words) and have you ever participated in one or run one?
Q2:  What do you think it takes to have a successful roundup? Or, what have you learned?
Q3:  How likely are you to participate in a roundup? What about running one yourself?
Q4:  Do you see any benefits in hosting your own roundup? Why or why not? If so, how often?
Format: Q&A
For more information on the formats of Twitter Events and what we recommend as tools to join in the fun, please visit Twitter Event Instruction.
Have questions? Leave them in the comments or send a regular tweet to Deborah @SocialWebCafe.
Join Us Today!
Join the elite members of the SocialWebCafe TV Insiders.