Talking About Twitter Parties With Kelli Miller (Summary) #SocialCafe 1.3
Welcome to the summary for...
#SocialCafe Chat Topic: Talking About Twitter Parties With Kelli Miller
View the announcement for this #SocialCafe Chat..
Tonight, we have a special guest, Kelli Miller. She is here to tell us about how she offers services as a Twitter Party host.
Resources Mentioned In Chat/Show
Deborah Talks About Twitter Chats
Twitter Chats and Twitter Parties: What Is The Difference?

Gail Gardner Talks About Twitter Parties
Twitter Chats and Twitter Parties: All About Parties

An Example From Kelli:
100 Dollar Giveaway and a Twitter Chat with Prizes!

Kelli's Ad Option Idea:
Blogging Basics: How To Offer A Twitter Party as Part of Your Ad Options


What are Twitter Parties?
While they are very similar and similar functionality, there are differences between the Twitter Party and Twitter Chat. Twitter Chat is what we had tonight, with a conversation with Kelly and a Twitter Party is the party version, with giveaways and a lot of activity! See the links, above, for a breakdown of the differences.
Final Thoughts and Action Steps
Thank you all, for joining this chat! And, thank you, Kelli, for being our guest of honor, in chatting about Twitter Parties. (Everyone, be sure to click on her tweets and twitter handle to start engaging with her!) Thanks, Gail, for the kind words :) Also, some sage advice from Kath Penney.
Over time some Storify code is removed from Storify and it makes for an unattractive Storify archive. That is the case with this Storify, but we have included it for the content that was shared during this chat.
#SocialCafe Twitter Chat Announcement
This SocialWebCafe Twitter Event is about: Talking About Twitter Parties With Kelli Miller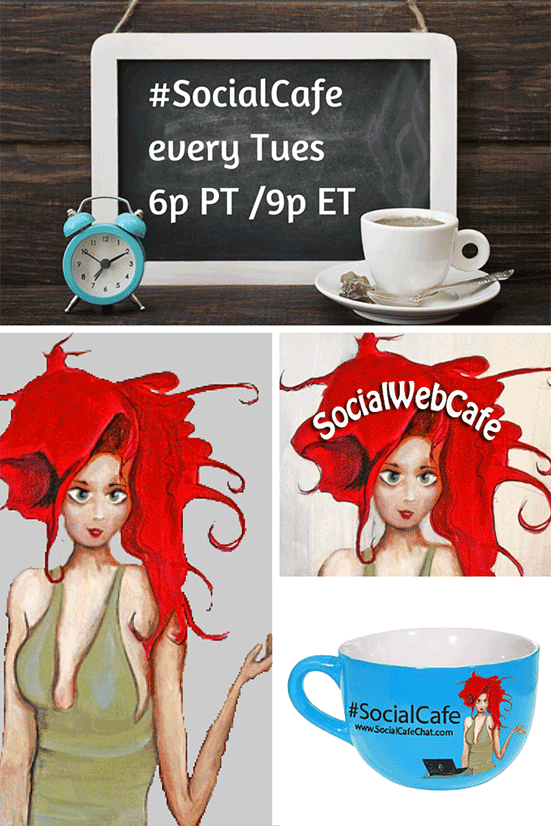 This event sponsored, in part, by our wonderful friends at:

We recommend them because we love them (and their tool) and not just because we are compensated. Try it for free!
Kelli was recently featured in a post on Examiner.com about Corporations and small businesses marketing with Twitter parties that mentioned some highlights of recent Twitter Parties Kelli has organized, promoted and hosted including:
Old London with over  82 participants generating the first 1,500 Tweets, which generated almost 1.8 million impressions and a total of over 5200 tweets in two hours! According to the Examiner.com article, "During the promotional period leading up to the party, and while the party was in progress, Old London gained 430 new Facebook fans, 180 joining on the day of the party."
Back to School Twitter party sponsored by Walmart in Alabama to coincide with Alabama's Tax Free Weekend for back-to-school shopping. Kelli organized the giveways for  Walmart's Gift Cards and announced super deals on back-to-school items.
We welcome Twitter Party Expert Kelli Miller of KelliBMiller - @KelliBMiller on Twitter - to share with us her expertise and tips on everything there is to know about Twitter Parties.
Twitter Event Questions
Q1:  What are Twitter Parties?
Q2:  How Are Twitter Chats different from Twitter Parties?
Q3:  What kind of businesses can benefit from having a Twitter Party?
Q4:  How important is it to have experienced Twitter Party Hosts?
Q5:  What is the role of Twitter Party Host/Hostess?
Q6:  What are some of the tasks that the Host/Hostess provides?
Q7:  What other ideas do you have?
Twitter Event Details
Date: 08/22/2012
Time: 04:00 pm PST/PDT (07:00 pm EST/EDT).
Hashtag: #SocialCafe
Time Conversion for Twitter Events Time Zone Difference Calculator
Format: Q&A
For more information on the formats of Twitter Events and what we recommend as tools to join in the fun, please visit Twitter Event Instruction.
Have questions? Leave them in the comments or send a regular tweet to Deborah @SocialWebCafe.
Join Us Today!
Join the elite members of the SocialWebCafe TV Insiders.