Tools 3 * @Commun_it (Summary) #SocialCafe 3.13
Welcome to the summary for...
#SocialCafe Chat Topic: Tools 3 * @Commun_it
View the announcement for this #SocialCafe Chat..
Resources Mentioned In Chat/Show
This Week's Tool
Commun.it

Previous #SocialCafe Twitter Chat
Tools 2 * Hootsuite #SocialCafe 3.12

Next #SocialCafe Twitter Chat
Tools 4 * Slideshare #SocialCafe 3.14


What makes Commun.it so special?
We had a great chat about the Commun.it tool. It is a unique tool, compared to other Twitter tools because it helps to highlight the conversations. By doing so, it helps to show you who it is that is awaiting a response, with whom you should start a conversation, who you may have accidentally missed, and so much more.
Final Thoughts and Action Steps
From all that Commun.it helps us to do, it is easy to see why we reference it as a relationship tool for Twitter. Go ahead and see for yourself. See if it helps you to track those important relationships on Twitter and whether it helps you to build new ones, especially with your business!


. .


#SocialCafe Twitter Chat Announcement
This SocialWebCafe Twitter Event is about Tools 3 * @Commun_it.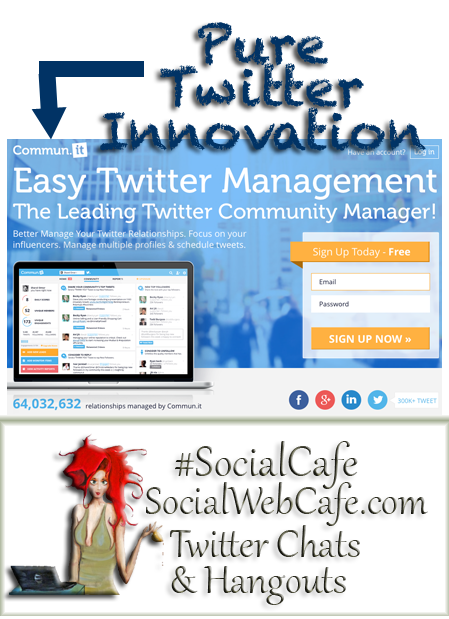 This event sponsored, in part, by our wonderful friends at:


We recommend them because we love them (and their tool) and not just because we are compensated. Try it for free!
About this Topic/Event
Commun.it is essential if you want to manage your Twitter relationships.
The developers at Commun.it have brilliantly developed suggestion tools to help you know who to engage with, who to follow, who to thank, and so much more! (Disclosure: Deborah is compensated, with service, for promoting Commun.it.)
Twitter Event Details
Date:   04/01/2014
Time:   6:00 pm PST/PDT (9:00 pm EST/EDT).
Hashtag:   #SocialCafe
Time Conversion for Twitter Events Time Zone Difference Calculator
Twitter Event Questions
How familiar are you with the @commun_it platform?
What tool(s) do you use now, to build relationships on Twitter?
What features do you or would you find most desirable on @commun_it?
How has @commun_it helped streamline your social media strategy?
Format: Instructional
For more information on the formats of Twitter Events and what we recommend as tools to join in the fun, please visit Twitter Event Instruction.
Have questions? Leave them in the comments or send a regular tweet to Deborah @SocialWebCafe.
Error thrown
Call to undefined function getCustomPinterestPostType_incoming()