Using TwChat for Your Twitter Chats (Featuring Sana Knightly) #SocialCafe 7.37
Welcome to the summary for...
#SocialCafe Chat Topic: Using TwChat for Your Twitter Chats (Featuring Sana Knightly)
View the announcement for this #SocialCafe Chat..
Before we start, let's take a moment of silence, remembering those who were lost on this day, the day that affected our U.S. country. And, thank you to those from other countries who join in remembering. We appreciate your show of love and respect.
PDF Download
Download PDF for this event
. Please be patient.. the PDF may contain a video or other large media, so it may take a bit to load. It is recommended that you right-click the link and do a
Save As
option to save the PDF file to your computer for offline viewing, on us. :)
View the full #SocialCafe Chat Transcript
How would Sana describe herself? Let's ask her!
How would you introduce or highlight some aspects of TwChat, Sana?
Continuing those highlights?
TwChat Features #1 and #2
TwChat Features #3 and #4
TwChat Features #5 and #6
Sana - what other tips are there, for users / participants in the chats?
Final Thoughts and Action Steps
Twitter stats for this #SocialCafe event: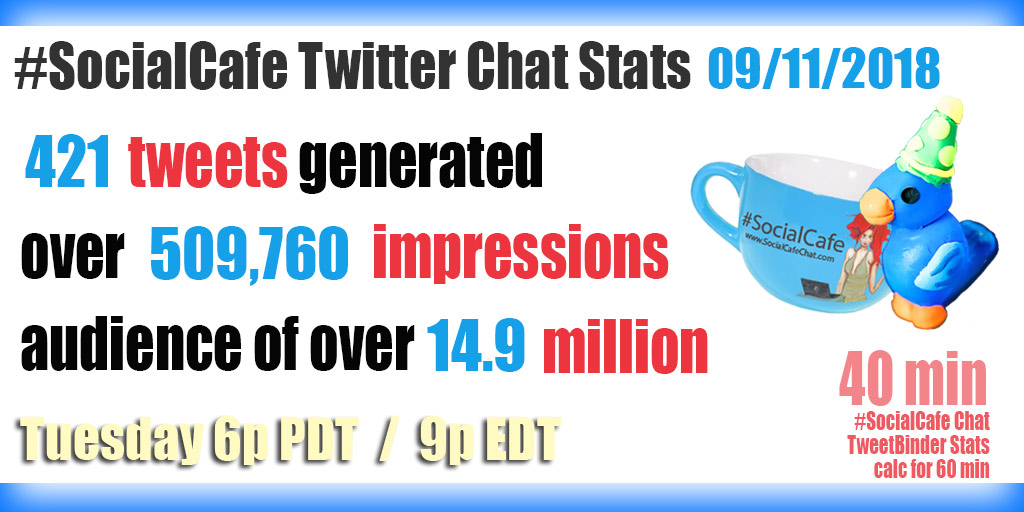 . .
#SocialCafe Twitter Chat Announcement
This SocialWebCafe Twitter Event is about Using TwChat for Your Twitter Chats (Featuring Sana Knightly).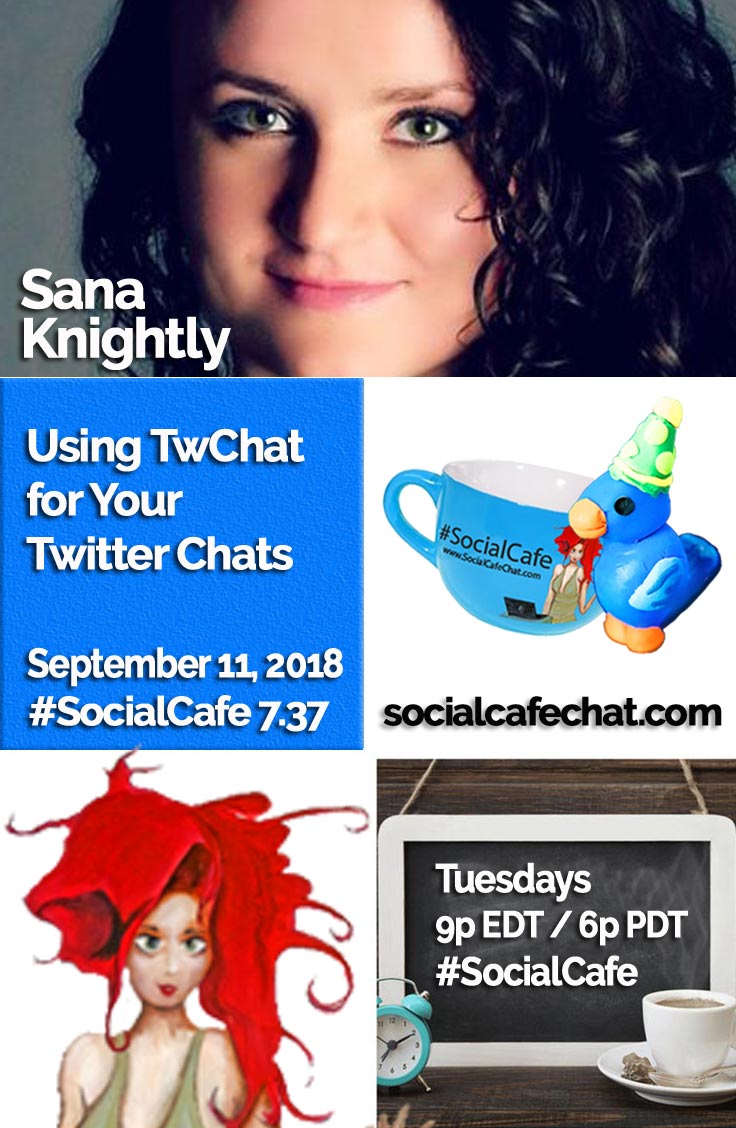 This event sponsored, in part, by our wonderful friends at:


We recommend them because we love them (and their tool) and not just because we are compensated. Try it for free!
As we have all learned by now, it helps if we have the right tools for whatever it is we are doing, wouldn't you say? And, that definitely goes for what we are doing online! Fortunately, we have a team of people who have our backs covered when it comes to Twitter Chats.
Sana Knightly is joining us and will be sharing a bit about TwChat - the online tool for Twitter Chats. By the time we are done, I'm sure you will be convinced that this is the tool for you, whether you are hosting or attending twitter chats.
Twitter Event Details
Date:   09/11/2018
Time:   6:00 pm PST/PDT (9:00 pm EST/EDT).
Hashtag:   #SocialCafe
Time Conversion for Twitter Events Time Zone Difference Calculator
Twitter Event Questions
Format: Instructional
For more information on the formats of Twitter Events and what we recommend as tools to join in the fun, please visit Twitter Event Instruction.
Have questions? Leave them in the comments or send a regular tweet to Deborah @SocialWebCafe.
Join Us Today!
Join the elite members of the SocialWebCafe TV Insiders.