Social Media Icons and Pics (Summary) #SocialCafe 2.8
Welcome to the summary for...
#SocialCafe Chat Topic: Social Media Icons and Pics
View the announcement for this #SocialCafe Chat..
In addition to Pinterest, we also played a Glam Game (the next day). Check out the Storify story.
Final Thoughts and Action Steps
Check out the Storify story for unique ways to use Twitter (like the Glam Game we played).


. .


#SocialCafe Twitter Chat Announcement
This SocialWebCafe Twitter Event is about Social Media Icons and Pics.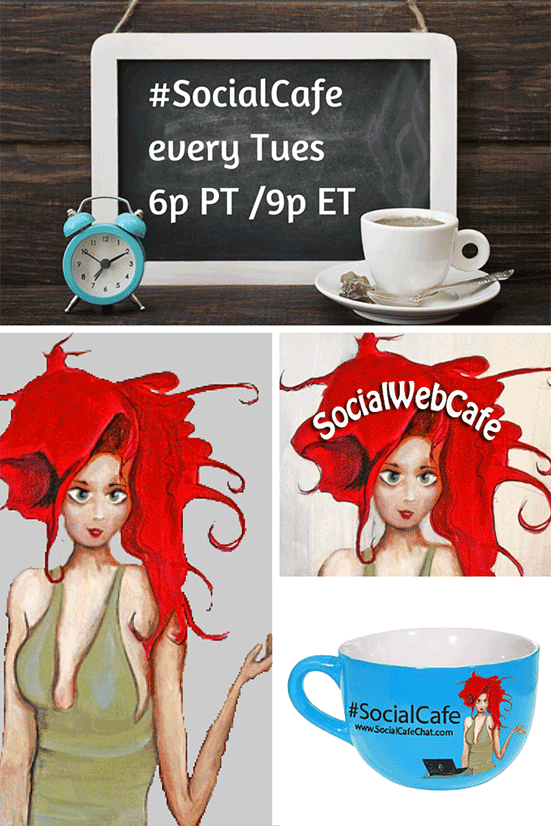 This event sponsored, in part, by our wonderful friends at:


We recommend them because we love them (and their tool) and not just because we are compensated. Try it for free!
About this Topic/Event
These last two weeks, we are continuing with a fun format of #pinitparties finding appealing pins and re-pinning them via Pinterest.
Watch for our #SocialCafe re-launch on March 5, 2013, at the new time of 9p EST.
Having fun with Pinterest and Twitter!
Twitter Event Details
Date:   02/20/2013
Time:   6:00 pm PST/PDT (9:00 pm EST/EDT).
Hashtag:   #SocialCafe
Time Conversion for Twitter Events Time Zone Difference Calculator
Format: Freeform
For more information on the formats of Twitter Events and what we recommend as tools to join in the fun, please visit Twitter Event Instruction.
Have questions? Leave them in the comments or send a regular tweet to Deborah @SocialWebCafe.
Error thrown
Call to undefined function getCustomPinterestPostType_incoming()