Social Media Infographics (Summary) #SocialCafe 2.7
Welcome to the summary for...
#SocialCafe Chat Topic: Social Media Infographics
View the announcement for this #SocialCafe Chat..
We have some exciting things coming up in the next few weeks.
Announcement 1:We hinted at this and now we can share... #SocialCafe chats will officially move to 9p Tues starting 3/5

— Deborah (@socialwebcafe) February 13, 2013

Why?Because... Announcement 2:#SocialCafe chats will accompany the new Social Web Cafe TV show that will start on 4/2

— Deborah (@socialwebcafe) February 13, 2013
The colors grab us on these infographics. There are also very appealing infographics that grab our attention through look and feel.
Some are full of interesting data.
Some data even surprised us. and some infographics are simple and to the point.
Final Thoughts and Action Steps
Be sure to mark your calendars for the exciting chats in March. Until then, we are just kickin' back.


. .


#SocialCafe Twitter Chat Announcement
This SocialWebCafe Twitter Event is about Social Media Infographics.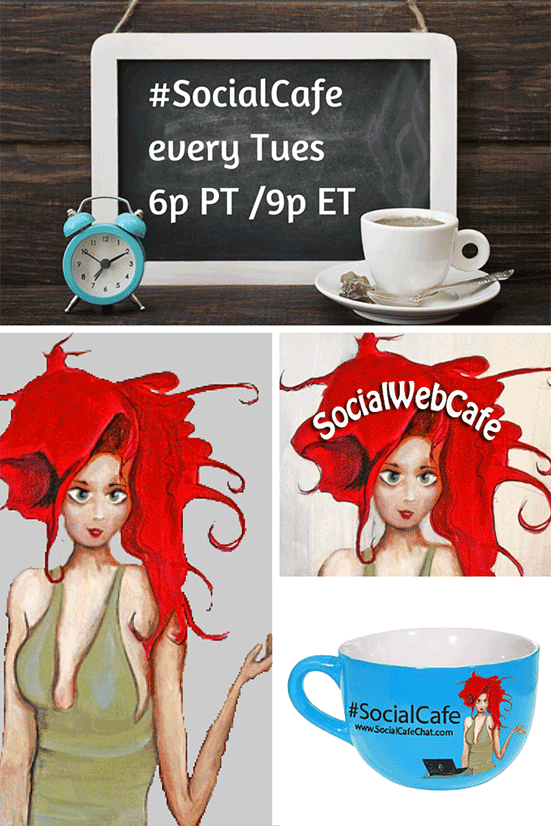 This event sponsored, in part, by our courses at Sage Leader where we offer courses for Entrepreneurs. We recommend our courses because we love you, as entrepreneurs and want to be there for you! DM me (Deborah) on Twitter to ask if there are any free courses available (limited time availability)...!
About this Topic/Event
There are some terrific data sets out there that talented designer have put together in the form of infographics. Granted, some of our favorites may be "old news," but still fun to look at and consider.
During this chat we will look at infographics that we enjoy and contemplate what it is that is appealing about the infographics.
Twitter Event Details
Date:   02/13/2013
Time:   6:00 pm PST/PDT (9:00 pm EST/EDT).
Hashtag:   #SocialCafe
Time Conversion for Twitter Events Time Zone Difference Calculator
Format: Freeform
For more information on the formats of Twitter Events and what we recommend as tools to join in the fun, please visit Twitter Event Instruction.
Have questions? Leave them in the comments or send a regular tweet to Deborah @SocialWebCafe.