Twitter Tips Featuring @GaryLoper #SocialCafe 4.1
Welcome to the summary for...
#SocialCafe Chat Topic: Twitter Tips Featuring @GaryLoper
View the announcement for this #SocialCafe Chat..
#SocialCafe (6p PT/9p ET) while @GaryLoper shares some Twitter Tips. Great way to start 2015 pic.twitter.com/NMRSlmetja— Deborah (@socialwebcafe) January 7, 2015
Resources Mentioned In Chat/Show
Gary Loper's Official Web Site
garyloper.com

Previous #SocialCafe Twitter Chat
Thinking about 2015

Next #SocialCafe Twitter Chat
Intro to Developing Social Media Strategy #SocialCafe 4.2


In a nutshell, what is Gary Loper's Philosophy on Twitter?
We had a lovely chat with Gary Loper, Master of the Twitterverse, during our #SocialCafe chat today. There is no way to describe Gary in just a few words. He is marvelous! Watch the video, above, to see him live and in action. In the meantime, let's read some of his sage advice, here:
What about those Social Media Tools?
During our chat, we not only got to know Gary, but discussed tips of our own, as far as Twitter tools, strategies, and managing social media profiles. Hint: Stay tuned for our next series when we dig in deeper.
Social Media Tools
Gary, how would you compare the use of Twitter and the use of Facebook, as far as branding goes?
How to Contact Gary Loper
What if we want to learn more from Gary? You are in luck! Gary offers classes and consultations/coaching!
Final Thoughts and Action Steps
We do have fun on these chats, no matter what the topic! Thanks, Gail (@growmap) for the kind words!


. .


#SocialCafe Twitter Chat Announcement
This SocialWebCafe Twitter Event is about Twitter Tips Featuring @GaryLoper.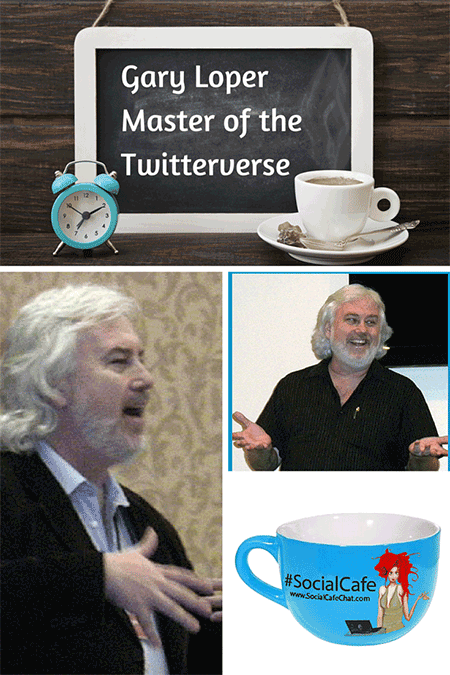 This event sponsored, in part, by our courses at Sage Leader where we offer courses for Entrepreneurs. We recommend our courses because we love you, as entrepreneurs and want to be there for you! DM me (Deborah) on Twitter to ask if there are any free courses available (limited time availability)...!
About this Topic/Event
Tonight, with the new year, we have asked Gary Loper, Master of the Twitterverse, to come share some Twitter tips with us, here at #SocialCafe.
Have some tips of your own? Feel free to share them. Gary won't mind ;) Have some questions? Feel free to share those questions in the comment section of this page, now that we have finished the chat. Hey, the live chat may be over, but we are still here to help you!
Twitter Event Details
Date:   01/06/2015
Time:   6:00 pm PST/PDT (9:00 pm EST/EDT).
Hashtag:   #SocialCafe
Time Conversion for Twitter Events Time Zone Difference Calculator
Format: Freeform
For more information on the formats of Twitter Events and what we recommend as tools to join in the fun, please visit Twitter Event Instruction.
Have questions? Leave them in the comments or send a regular tweet to Deborah @SocialWebCafe.