Tools 1.10 Charles Harper of Fusion Pro #SocialCafe 4.22
Welcome to the summary for...
#SocialCafe Chat Topic: Tools 1.10 Charles Harper of Fusion Pro
View the announcement for this #SocialCafe Chat..
The giveaway code has been removed because the contest time has expired.
Resources Mentioned In Chat/Show
Previous #SocialCafe Twitter Chat
Tools 1.9 Brian Cervino of Trello #SocialCafe 4.21

Next #SocialCafe Twitter Chat
2015 Tool Series 1 Wrap-Up Twitter Party! #SocialCafe 4.23


Final Thoughts and Action Steps

. .


#SocialCafe Twitter Chat Announcement
This SocialWebCafe Twitter Event is about Tools 1.10 Charles Harper of Fusion Pro.
The giveaway code has been removed because the contest time has expired.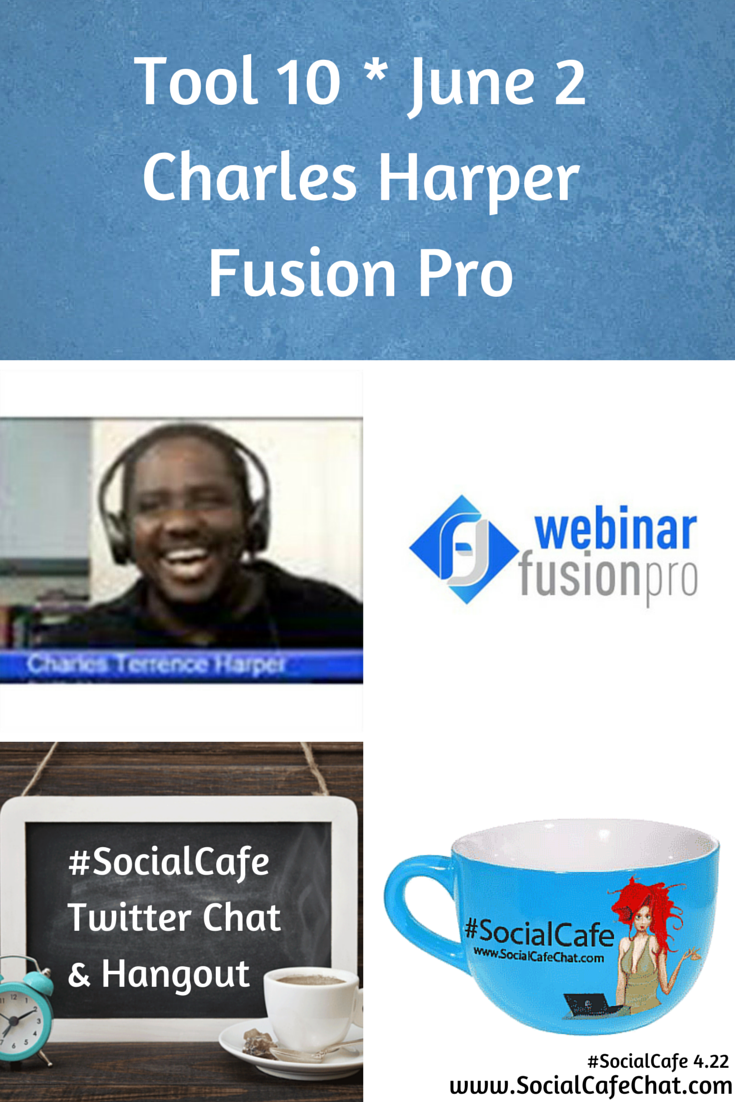 This event sponsored, in part, by our courses at Sage Leader where we offer courses for Entrepreneurs. We recommend our courses because we love you, as entrepreneurs and want to be there for you! DM me (Deborah) on Twitter to ask if there are any free courses available (limited time availability)...!
About this Topic/Event
I am the HangoutQueen and I spent a lot of time "on air." Webinars are a part of that opportunity to provide help via the world wide web. Enter Fusion Pro. I fell in love with it as soon as I saw it and have been using it for some weeks now.
Charles Terrence Harper is a part of the Fusion Pro team. He is also my co-host on Marketing Momentum. He is here to answer your questions about this amazing software! (Disclosure: I am now an affiliate of Fusion Pro because I love it so much!)
Twitter Event Details
Date:   06/02/2015
Time:   6:00 pm PST/PDT (9:00 pm EST/EDT).
Hashtag:   #SocialCafe
Time Conversion for Twitter Events Time Zone Difference Calculator
Twitter Event Questions
How often to you attend or provide webinars?
Would you like to (start or) offer (more) webinars?
What challenges do you face (or imagine that people face) with offering webinars?
What improvements do you see that could be made with the whole webinar process (i.e. what gripes)?
What are some ways you could use a tool like Fusion Pro to streamline how you may offer webinars in your business?
What would you like to know about Fusion Pro?
What will you be adding to your strategy this week, after #SocialCafe (Hint: learn more about Fusion Pro :) )?
Format: Q&A
For more information on the formats of Twitter Events and what we recommend as tools to join in the fun, please visit Twitter Event Instruction.
Have questions? Leave them in the comments or send a regular tweet to Deborah @SocialWebCafe.