Tools 2.3 Ran Oelgiesser of vCita #SocialCafe 4.27
Welcome to the summary for...
#SocialCafe Chat Topic: Tools 2.3 Ran Oelgiesser of vCita
View the announcement for this #SocialCafe Chat..
Resources Mentioned In Chat/Show
Previous #SocialCafe Twitter Chat
Tools 2.2 Gerald Weber of Viral Content Buzz #SocialCafe 4.26

Next #SocialCafe Twitter Chat
Tools 2.4 Tamar Ben-Moshe, formerly of Oktopost #SocialCafe 4.28


Final Thoughts and Action Steps

. .


#SocialCafe Twitter Chat Announcement
This SocialWebCafe Twitter Event is about Tools 2.3 Ran Oelgiesser of vCita.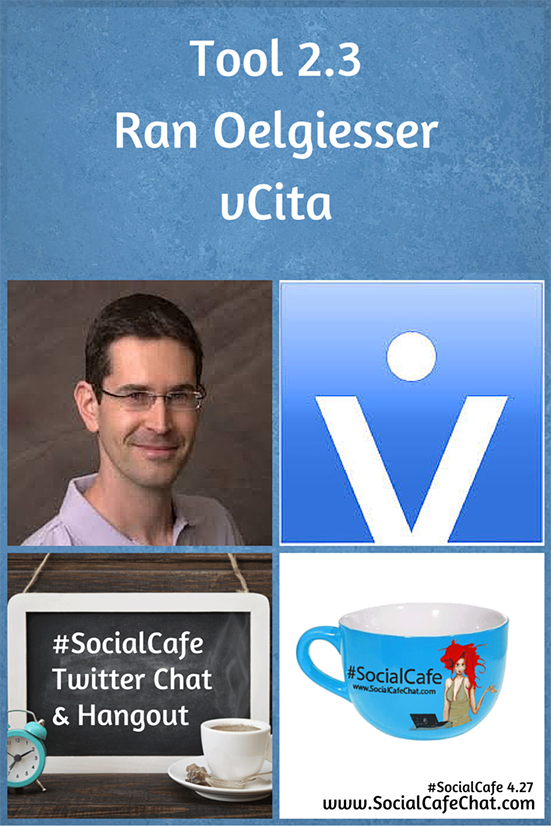 This event sponsored, in part, by our courses at Sage Leader where we offer courses for Entrepreneurs. We recommend our courses because we love you, as entrepreneurs and want to be there for you! DM me (Deborah) on Twitter to ask if there are any free courses available (limited time availability)...!
About this Topic/Event
Keeping one's schedule straight, with the least amount of time spent, while still maintaining one's sanity, can prove challenging at times.
There are solutions, including vCita. Tonight, we discuss the challenges that face us with using a calendar system and keeping our schedule straight. We also look at vCita as a possible solution.
Twitter Event Details
Date:   07/09/2015
Time:   6:00 pm PST/PDT (9:00 pm EST/EDT).
Hashtag:   #SocialCafe
Time Conversion for Twitter Events Time Zone Difference Calculator
Twitter Event Questions
What are your current challenges in keeping your calendar organized, especially with client or team meetings?
What other pain points do you have, as far as managing your schedule or anything related to your schedule?
What solutions do you use now, for keeping your schedule going (and your sanity at the same time)?
Have you ever used a scheduling program? If so, which one(s)?
What would you like to know about vCita, as a scheduling software? Or, any other questions for the team?
What will you be adding to your strategy this week, after #SocialCafe (Hint: learn more about vCita :) )?
Format: Q&A
For more information on the formats of Twitter Events and what we recommend as tools to join in the fun, please visit Twitter Event Instruction.
Have questions? Leave them in the comments or send a regular tweet to Deborah @SocialWebCafe.