Tools 8 * Trello (Summary) #SocialCafe 3.18
Welcome to the summary for...
#SocialCafe Chat Topic: Tools 8 * Trello
View the announcement for this #SocialCafe Chat..
Resources Mentioned In Chat/Show
This Week's Tool
Trello

Previous #SocialCafe Twitter Chat
Tools 7 * Buffer #SocialCafe 3.17

Next #SocialCafe Twitter Chat
Tools 9 * Google Hangout #SocialCafe 3.19


Final Thoughts and Action Steps
Trello is an amazing tool. It is a bit of a project management tool and yet most Project Managers (myself included) would not classify it as a PM tool, officially. However, it is more like working with lists. At the end of the day, who cares what the label is as long as it keeps you organized, right? But, don't take my word for it. Check out the video with our Trello rep, Brian.


. .


#SocialCafe Twitter Chat Announcement
This SocialWebCafe Twitter Event is about Tools 8 * Trello.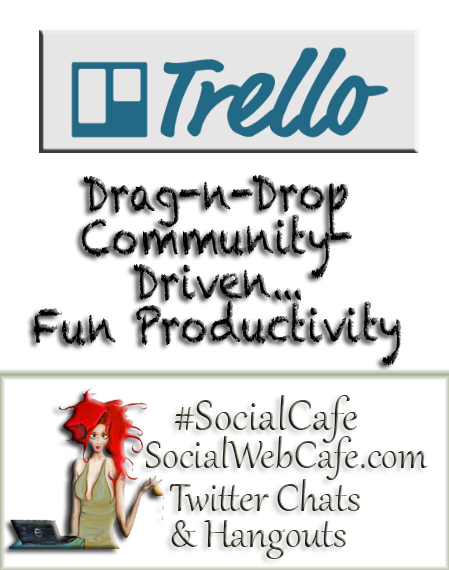 This event sponsored, in part, by our wonderful friends at:


We recommend them because we love them (and their tool) and not just because we are compensated. Try it for free!
About this Topic/Event
Have you used Trello to organize your business or personal life? That is what this chat is all about. Come share. Come learn.
Trello presents opportunities to expand your thinking and utilization of this tool. We provide you with some tips and ideas to get you started. Then, go try Trello out for yourself!
Twitter Event Details
Date:   05/06/2014
Time:   6:00 pm PST/PDT (9:00 pm EST/EDT).
Hashtag:   #SocialCafe
Time Conversion for Twitter Events Time Zone Difference Calculator
Twitter Event Questions
How familiar are you with the @trello?
How do you use @trello? If you don't use it, what would you like to know about it?
What are some ideas for using @trello to help you be more productive? What would you like to know?
If you decide to use @trello, how do you think YOU will use the tool?
Format: Q&A
For more information on the formats of Twitter Events and what we recommend as tools to join in the fun, please visit Twitter Event Instruction.
Have questions? Leave them in the comments or send a regular tweet to Deborah @SocialWebCafe.
Error thrown
Call to undefined function getCustomPinterestPostType_incoming()